Helge: This is a very interesting product. Is it sold in Finland. Need to find out. The price is $ 399 according to a Finnish site
Muropaketti
.
Mobile Computer For Bloggers, writes Random Good Stuff - The Entertainment Blog
: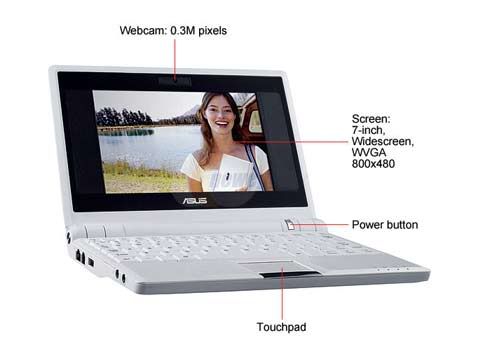 It looks like a laptop but you can barely call it one. But I'd say this is the perfect mobile computers for bloggers.

But that low weight of 0.89 kilograms is a real seller.
Compact and highly portable at just 32 ounces, the Eee PC 4G has a 7-inch wide color TFT LCD with an 800 x 480-pixel resolution (WXGA).

Under the hood is a 900 MHz Intel Mobile CPU with integrated Intel graphics processor, 512 MB of RAM (not expandable), and 4 GB of solid-state flash memory.

With the dependable solid-state disk, you get unparalleled shock-protection and reliability. In addition to its wireless LAN, it also offers wired Fast Ethernet connectivity and a 56K modem.

The Eee PC includes software for Web browsing (Firefox), email, OpenOffice 2.0 for creating and editing word processing documents and spreadsheets, and a suite of other productivity software to help keep you on track.
You get three USB 2.0 ports, a VGA output for connecting to external monitors, headphone and microphone jacks, and a Secure Digital (SD) memory card slot.

The Eee PC measures 8.9 x 6.5 x 1.4 inches, and it weighs 32 ounces. The 4-cell, 5200 mAh battery provides up to 3.5 hours of battery life (depending on usage). It's backed by a 1 year warranty for parts and labor.